Mercedes-Benz Fashion Creatives Episode 4: Mercedes-Benz Fashion Week Berlin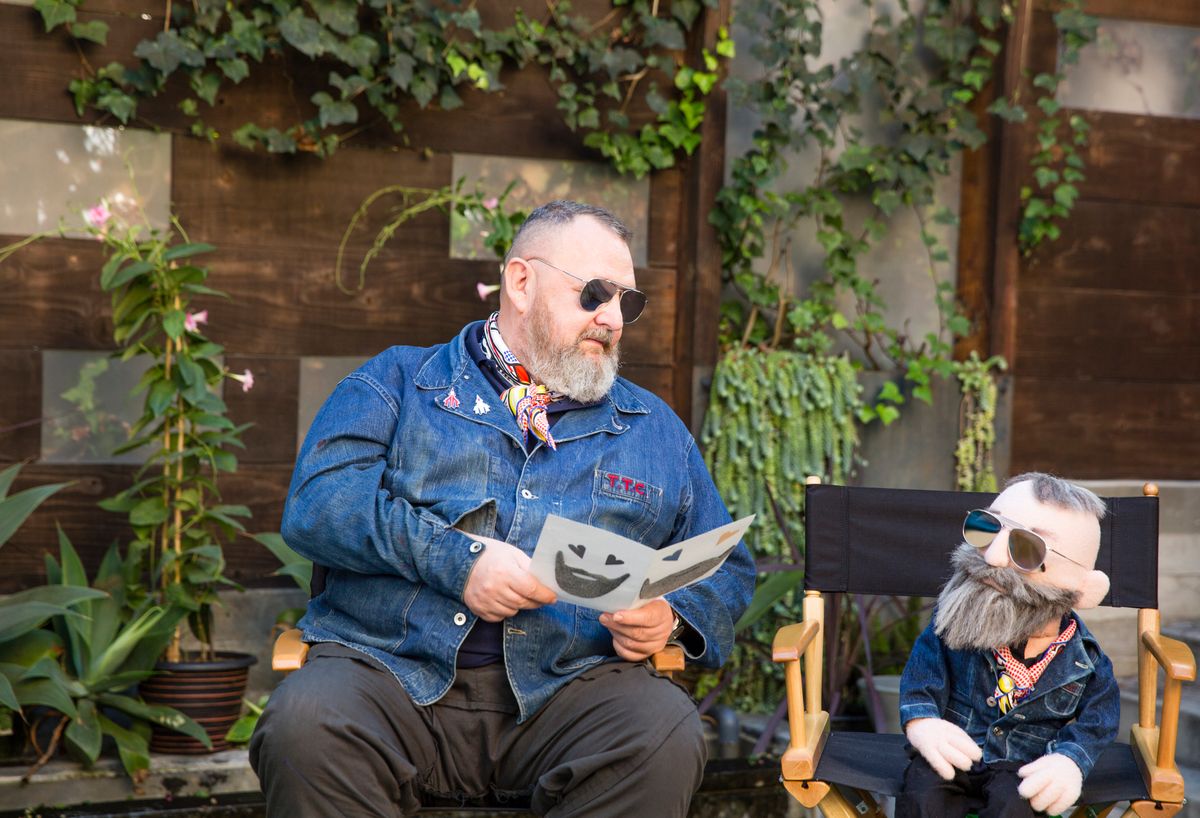 Mercedes-Benz // Fashion Creatives // Michel Gaubert and His Puppet
Video Links: Youtube and Vimeo
Credits:
Directed by Toben Seymour
Creative Direction Aldona Kwiatkowski and Seyna Van Der Linden
Produced by Matt Zolly and Toben Seymour
Co-producers Doug Riggs and Carlos Mason
Cinematography Travis Auclair
Written by Paul Prado and Toben Seymour
Staring:
Michel Gaubert as himself
Lead Puppeteer / Petit Michel by Victor Yerrid
Puppeteer Assistant Amanda Maddock
Models in video: Nana Ghana, Katrina Hunter, and Nadya Panchenko
Fashion Creative played by Ryan Aguliar
Edited by Toben Seymour
Music Score by Jonnie Wilkes and James Savage
Puppet Design / Build by Seymour.tv
Puppet builders: Christine Papalexis, Kate Katz, and Toben Seymour
Puppet wardrobe by Sarah MGeni
Production Design by Carlos Laszlo
DIT Blake Brown
Sound Mixer Dylan Hirsch
Production Manager Caleb Adams
1st AC Mike lemnitzer
Gaffer Chris Walters
Key Grip Brody Culbertson
Makeup Tammy Yi
Sound Design Alec Moore
VFX Chance Cole
Production Company / Executive Producer Seymour.tv
Special thanks to Thom Browne: Michel and Petit Michel are wearing the Thom Browne Silver Mirrored Aviator Sunglasses
- - -
MB Press Release
- - -
Stuttgart/Los Angeles. In support of its commitment to the Global Fashion Engagement and emerging talent worldwide, Mercedes-Benz is proud to present a new episode of Fashion Creatives starring fashion's leading sound designer, Michel Gaubert and his assistant Petit Michel.
The humorous short film, reminiscent of what could have happened if the Muppets were cast in The Devil Wears Prada, features a day in the life of Paris-based Michel Gaubert and his unusual puppet assistant baptised "Petit Michel" as they cruise the streets of Venice Beach in a Mercedes-Benz 1970 280SEL.
As one of the fashion industry's most revered music gurus, Michel Gaubert has provided soundtracks for runway shows of the world's most iconic fashion houses - a highly enviable job description.
When Michel's life starts to get too hectic he hires a puppet assistant to aid him with the daily grind. But it is not too soon before Petit Michel starts mimicking his style, accent and even remixing the music he has prepared for clients. The imitation game, firstly appearing as an attempt to sabotage and take over the real Michel Gaubert's realm, is soon revealed as pure admiration from the puppet assistant for his master. When one day Petit Michel's sneaky remix gets Michel a big gig, he realises the puppet once mistaken for a saboteur is a genius, worthy of attending Mercedes-Benz Fashion Week Berlin in his absence.
- - -
Press Information 14 January 2016
To further Mercedes-Benz Fashion's growing relationship with emerging creative talent, this endearing portrait of a true friendship between a man and a puppet was written and directed by Los Angeles-based director Toben Seymour. The puppeteer for Petit Michel, Viktor Yerrid, works for the world- renowned Jim Henson Company and has performed Muppet characters in many TV shows, movies, and TV commercials.
20 Years of Dedication to Fashion by Mercedes-Benz
Over the past 20 years, Mercedes-Benz has established itself globally as a partner at selected fashion events. The brand is currently involved in more than 50 fashion platforms globally, including Mercedes-Benz Fashion Weeks in Beijing, Madrid, Amsterdam, Tokyo, Istanbul and Berlin, as well as the acclaimed International Festival of Fashion and Photography in Hyères. Mercedes-Benz continues to support selected fashion events globally and over the course of two decades has made a name for itself in particular for promoting talented new designers.
Michael Gaubert
Michel Gaubert is fashion's leading sound director. Along with producing the fashion show soundtracks for an extensive list of clients that includes Raf Simons, Jonathan Anderson, Gucci, Louis Vuitton, Jeremy Scott, and Celine the omnipresent sound director has a long-running collaboration with Karl Lagerfeld. Gaubert is also well-known for his "mix-tape" compilations for Parisian concept store Colette and has guest written for Candy Magazine and Air France's in-flight magazine.
Gaubert began his career in sound in 1978 working as a buyer at an independent record store called Champs Disques that was frequented by Karl Lagerfeld. While travelling to London, Belgium and America to buy records for the store, Gaubert became inspired to produce his own sounds and began playing at the Palace, a Parisian hotspot popular with Thierry Mugler, Claude Montana and Kenzo Takada.
In the early 1990s, Gaubert first began working with Lagerfeld on the sound for his namesake label before eventually going on to work for Chanel and Fendi. He oversaw the eighty-piece orchestra at Chanel's famous Spring/Summer 2011 show at the Grand Palais and produced the sound for Fendi's iconic show on the Great Wall of China.
Michel Gaubert and His Puppet