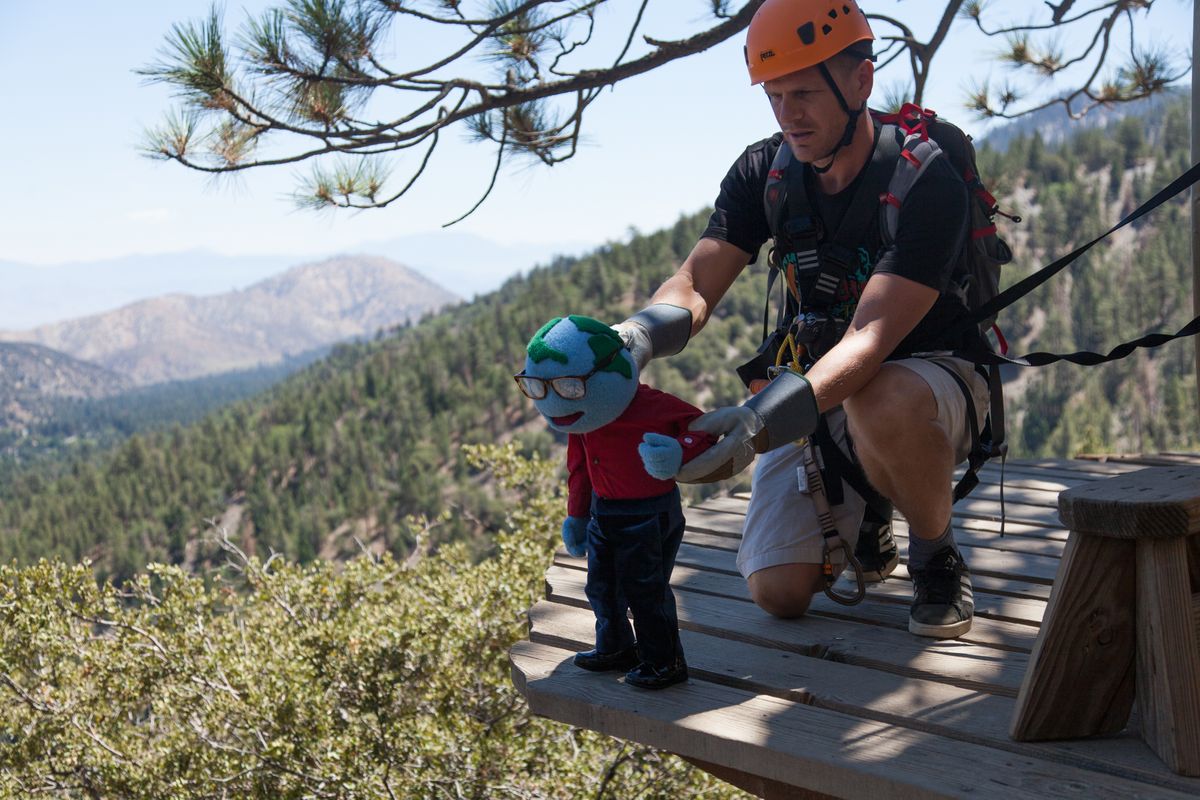 Eyeglass World 2018 - New Adventures For Mr. World!
Toben
A big thank you to everyone at National Vision, Eyeglass Word, The Richards Group, Tessa Films, Treehouse, and Seymour Creatures for all the hard work and collaboration it took to create these new adventures for Mr. World. I love the challenges that come my way from Todd and Danny (agency creatives), who always want to take puppets to places where puppets have never been before. This year we took Mr. World's adventures to the next level. I prefer to shoot as much of the puppetry in camera as possible, so we actually have Mr. World on the zip-line, in the water, and dancing with a human. We even built an animatronic Mr. World in order to enable him to do things (like fly down the zip-line) while the puppeteers could control him remotely. Another big thank you to my team of puppeteers and builders who are always willing to take on these challenges and adventures.
These three photos sum up the process in a fun way for me. I like to scout the location in order to test out the puppetry before the shoot. I use my background as a puppeteer to see what's possible with the puppet and rework the storyboards with the agency if necessary. Sometimes we change shots and add new ones. Then when we have all the puppeteers and camera crew in the location there is yet another level of revision and reworking. In the edit we have a final opportunity to tweak and improve the action or adventure sequences. We are constantly working toward the most beautiful and most realistic creature animation possible. I think shooting on location with real creature/puppetry effects is essential to getting that grounded movement and realistic interaction with the setting. It's impossible to highlight everyone's incredible efforts and the many hours it took to create these spots, but I want to take a moment to credit everyone involved in the shoot. Email me if I forgot to include you or spelled your name wrong.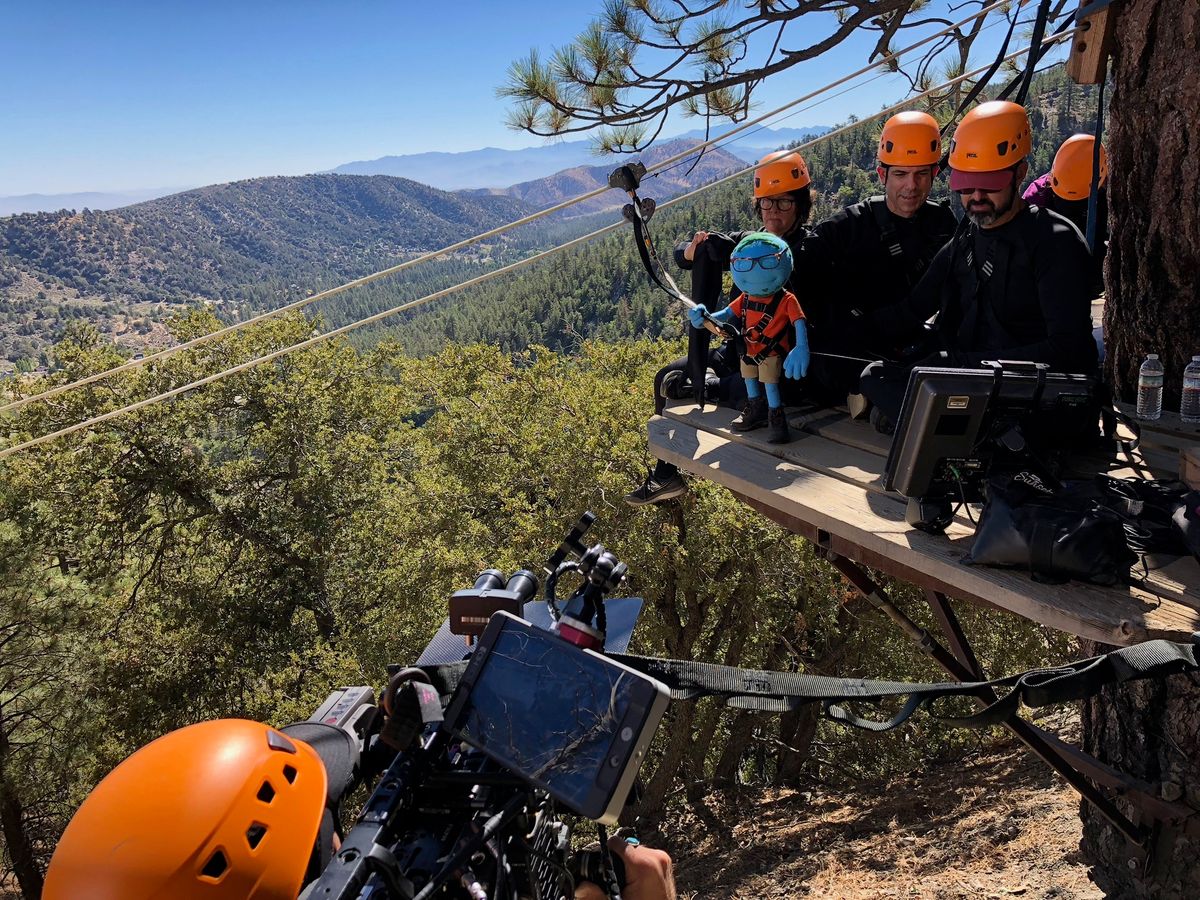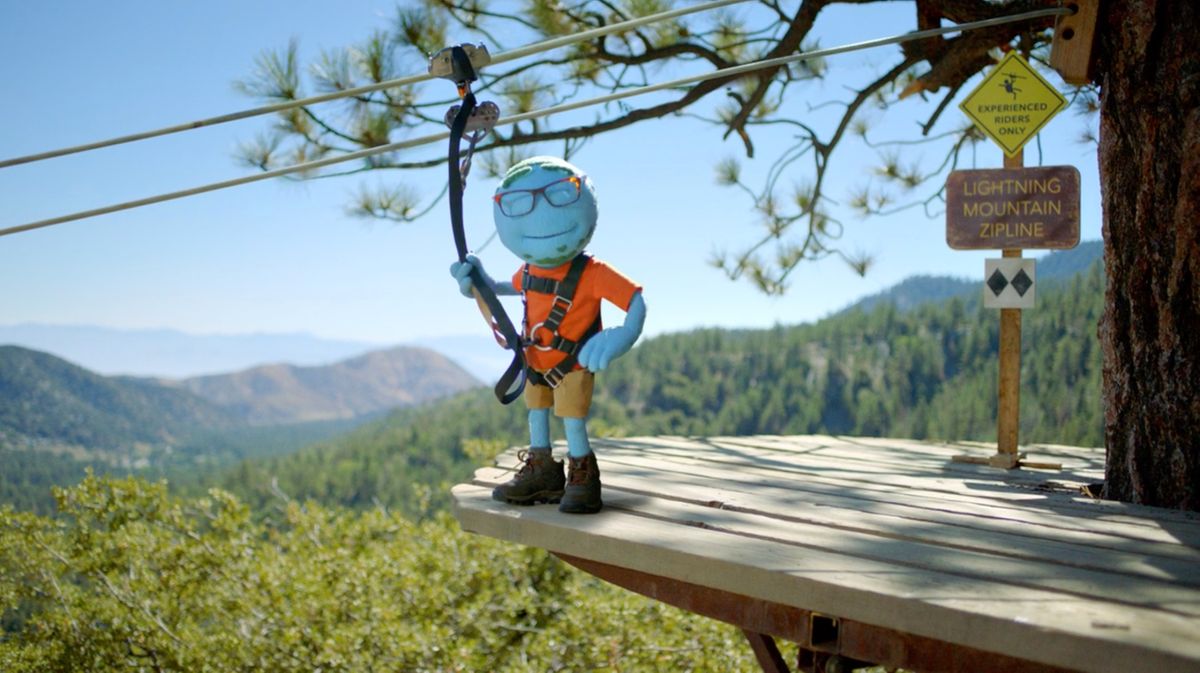 Client/Agency
Client: National Vision, Inc
Senior Vice President of Marketing: Alex Louw
Director of Brand Marketing: Jeff Pierson
Agency: The Richards Group
Creative Group Head / Art Director: Todd McArtor
Creative Group Head / Writer: Danny Bryan
Principal: Dale Hruby
Brand Management: Nathan Corley
Brand Management: Blake Balser
Director of Broadcast: Greg Gibson
Business Affairs: Sara Sax
Production
Production Company: Tessa Films
Director: Toben Seymour
President: Reid Brody
Executive Producer: Lisa Masseur
Producer: Jonah Mueller
Director of Photography: Travis Auclair
Production Manager: Devon Wright
Production Coordinator: Roland Berry
Production Designer: Tessa Posnansky
Storyboards: Rance Jones
Talent
Mr. World Lead Puppeteer / Voice: Paul McGinnis
Puppeteer Assist: Christine Papalexis
Puppeteer Assist: Greg Ballora
Puppet Wrangler: Alison Mork
Puppet Wrangler: Kristin Charney
Dancer: Brittany Cherry
Creature / Puppet
Mr. World Puppet Build: Seymour Creatures
Lead Puppet Builder: Christine Papalexis
Lead Puppet Builder + Animatronics: Greg Ballora
Lead Puppet Builder: Toben Seymour
Mr. World Lead Costumer: Carol Binion
Puppeteer Costumes: Lisa Davis
Puppet Builder: Kristin Charney
Puppet Builder: Alison Mork
Puppet Builder Mark Royston
Puppet Builder: Shanna Blaney
Puppet Costumer (Scuba / Shark Bait): Jocelyn Lynch
Scuba Puppet Props: Anuardi J Cantre Santiago
Puppet Costumer (Scuba and Zipline Harness): Gillian Hunt
Puppet Fabrics by Puppet Pelts
Crew:
1st AD: Mike Hart
2nd AD: Jeff Cobb
1st AC: Jared Wennberg
2nd AC: Colleen Haley
DIT: Will Chung
Gaffer: Drew Valenti
BB Electric: Zane Blanchard
Electric: Laura Pearson
Electric Hyphenate: Jorge Covarrubias
Key Grip: Chris Bauer
Hyphenate: Will Gonzalez
Grip: Derek Dipippo
Grip: Joel Bezemer
Prop Master: Tomas Kirk
Props Assist: Sean Veale
Set Decorator: Jack Lewis
Costumer (for humans): Elise Velasco
2nd Costumer: Tess O'melia
Hair / MU: Noa Bolozky
Script Supervisor: Ana Maria Quintana
VTR: Evan Johnson
Sound Mixer: Bobby Fisk
Gang Boss: Steven Chatelain
Location Scout: Kevin Briles
Van Driver: Andrew Enriquez
Van Driver Danny Feather
Moho Driver: Kevin Barrett
PA: David Morales
PA: Rob Reaves
PA: Trevor Hugle
PA: Justin Pool
PA: Russel Griffith
PA: Nathan Zasada
PA: Ty Dorcey
PA: Michael Waters
Craft Service: Alla Rockwell
Medic: Michael Smith
Drone pilot: Davis DiLillo
Drone Camera Op: Andrew Mackenzie
Drone Tech: Evan Mobley